Last week J and I managed to grab a very quick break in the middle of moving house and headed out to Bournemouth for one night. We had a great time staying at the Royal Bath Hotel – more on that at some later date – and also found the time to seek out a couple of the veggie burger options near the beach. Hopefully we'll be able to return in future as there were just so many restaurants nearby that had veggie burgers on the menu!
We did manage to fit in a trip to Harry Ramsden's, which was very, very rewarding. I absolutely recommend this burger, although there's a bit of a twist – it's not actually on the menu. I'm not sure whether they are planning to add it to the menu soon since they had them in ready supply, but it was absolutely gorgeous and without a doubt one of the best burgers I've ever had.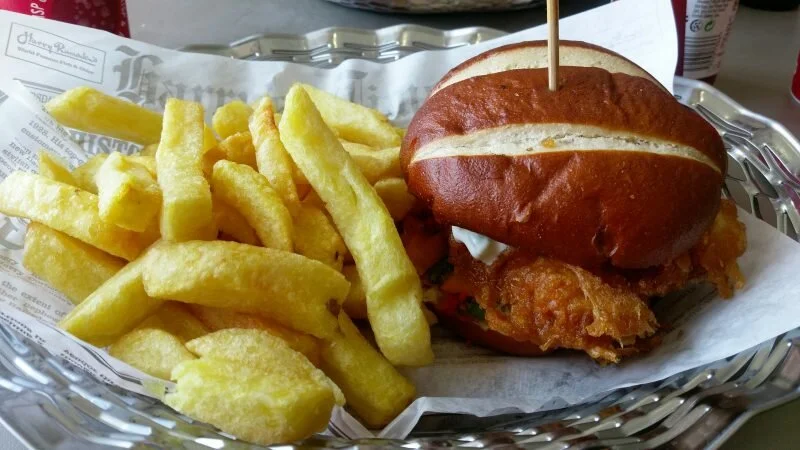 We tried to order the Beets Me burger, but were told it wasn't in stock – but that they could do a halloumi burger for us instead. I love a bit of halloumi, so this suited me fine! What arrived was a battered halloumi chunk served in a brioche bun with twice cooked chips, alongside our bottomless slushies (the child in me approves so very much).
The bread was very nice, both sweet and soft and presented very well too. It had a few small burn marks, but tasted great. It was coated inside with a zingy sauce – I could taste dill, cucumber, mayonnaise, and a bit of mint. Thankfully not too much, as since an unfortunate incident with a salad containing whole mint leaves, I've been put off the taste quite possibly for life. Underneath the burger was hiding a delightful melange of mixed roast vegetables such as pepper and red onion chopped up small. It also included – and I never expected this – small chunks of pineapple! It's an odd seeming choice but it actually went very well with the other flavours, particularly the halloumi itself.
Right, onto the actual burger then. It was a slab of halloumi, battered and just so delicious. I'm seeing this "halloumi for fish" substitute more and more often in restaurants, and I'm a big fan. The batter was crispy but just a little greasy, perhaps too much if you're health-conscious (but if you are, I'd possibly suggest not eating huge bits of cheese anyway). The halloumi within the batter was warm and just slightly melty, which create an amazing mouthfeel and was altogether a lot of fun to eat.
The chips were just average – I kind of expected more from a fish and chips brand, but still, the burger more than made up for it. The price was excellent, too: it was costed at the same as the Beets Me would have been, £7.95 each for the burger and chips. We then found a tourist leaflet in the hotel lobby which gave us 20% off the whole meal, so make sure you check that out if you are visiting – you may be able to find them in the tourist information centre as well.
Altogether it was a great experience and I would eat there again in a heartbeat. It's with great excitement I can now reveal that this is our new highest scoring burger of all time!
ON THE VEGBURGE SCALE, I GIVE THIS…
Taste – 9.5/10
Price – 8/10
Rest of experience – 9/10