I recently picked up a copy of Good Food's vegetarian magazine, and as soon as I spotted these beetroot and feta burgers, I could not resist giving them a go. I changed a couple of things in the recipe to suit our tastes, and we absolutely loved them. This is probably the best recipe I've tried so far, so I'm so excited to tell you about it!
First of all, the recipe calls for spring onions; I hate them, so I substituted for red onion as it tastes better to me. Secondly, you're supposed to make 18 mini patties. I prefer a nice big burger, so this was enough to make five. That's a bit of an awkward number, but we solved it by having an extra half burger each on the plate, and serving with some tasty parsnip croquettes.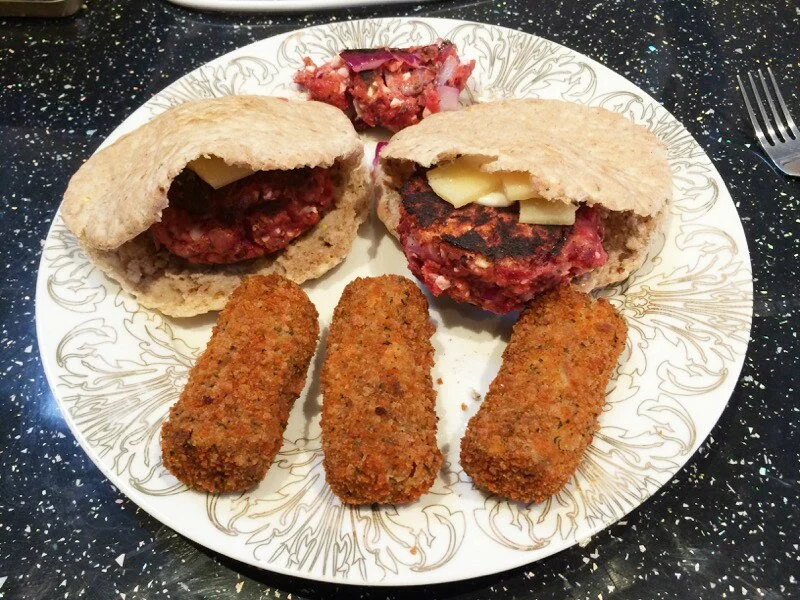 It has to be said that when you get it all mixed together, it looks like meat. No, it really does! I was quite impressed by this, even if you might assume otherwise. I've always resented the fact that just by being vegetarian, I'm denied access to some of the best looking burgers – it's not like there is a veggie version of a Big Mac or a Whopper. If I was in the food industry, I would be campaigning to get exact veggie replicas of any and all meat based meals.
Anyway, back to the point: the mixture binds really well, which long term readers will know is something I've been working on in my recipes. It is also quite tasty when raw, and even better when warm.
There is a gooeyness to the feta which just sits really nicely with the sweetness of the beetroot, and also goes really well with the pittas we used (wholegrain with seeds). The burgers are moreish and filling – I had two and a half on my plate, and I still ended up looking at J's sideways and wondering if I could swipe another!
If I could offer any improvement, it would be that the onion maybe needs cooking longer before adding. Of course, if you follow the original recipe, then that won't be a problem! I would also add that frying them requires a delicate balance. I don't like to use much oil, especially in my non stick pan, and so I often find that things cook too quickly. In this case we ended up with blackened edges, although to be honest they didn't taste burned.
We have since made the burgers again, this time as an adaptation of a recipe which called for meat burgers, and I think it's safe to say they will be our go-to option in the future. I managed to balance them a bit better, getting them on a lower heat to cook, and although they took an average of five-six minutes to cook this way, they did cook through better. That meant less of a blackened surface, and better cooked onions too. I've included the recipe, with my amendments, below.
Beetroot and Feta Burgers
2015-06-25 04:32:01
Ingredients
200g cooked and coarsely grated beetroot
200g feta cheese, crumbled
1 red onion
2 tbsp. dill
2 tbsp. mint
2 large beaten eggs
100g fresh breadcrumbs
1 splash of olive oil (for cooking)
4+ flatbreads or pittas
Instructions
Put the feta, beetroot, onion, dill, mint, eggs, and breadcrumbs together in a large mixing bowl.
Combine until mixed well and sticking together.
Shape into five large burgers.
Cook in a large frying pan on low heat for around five minutes each side until cooked through.
Serve in flatbreads with optional cheese topping.
Notes
These delicious and rich burgers would work well with additional toppings like rocket and pine nuts. You can also cook the red onion for a few minutes before mixing if you prefer it to be well done.
Adapted from BBC Good Food
Adapted from BBC Good Food
VegBurge https://vegburge.com/
By the way, if you want to see what it looks like to cook them we made a vine!
On the VegBurge scale, I give this…
Taste – 9/10
Price – 8/10
Rest of experience – 9/10