This week's burger is a bit unusual – it comes from an Indian restaurant! As both I and J had our birthdays recently, my parents took us both out for a meal as a treat. We were up in the area anyway, so head for Rajasthan in Bexleyheath, which had a lot of great reviews and seemed like a good shout.
As my starter, I ordered the aloo tikki. This is described on the menu as follows:
Minced potato burger fillet with dry lentils & spices served with tamarind chutney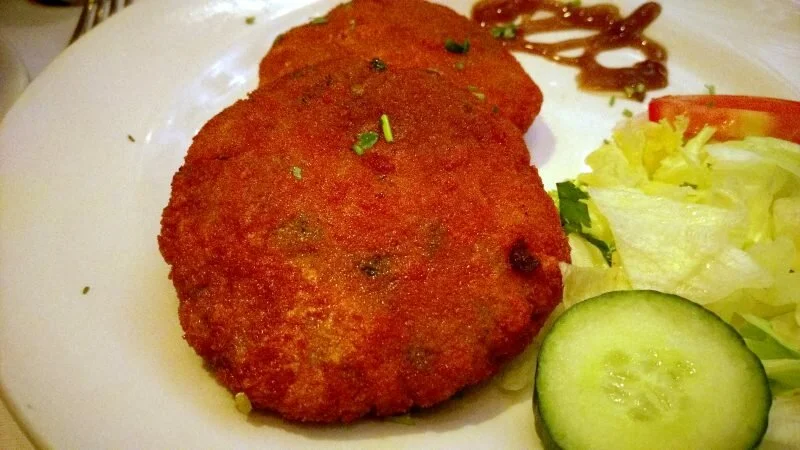 It costs £2.80 for one serving. As you can see, it's actually quite substantial for the price – probably about the same that you would pay in the supermarket, which really says something, and certainly less than you would pay in a pub. The chutney was a bit insubstantial, and the salad was totally unappealing, but the burgers themselves were the main focus.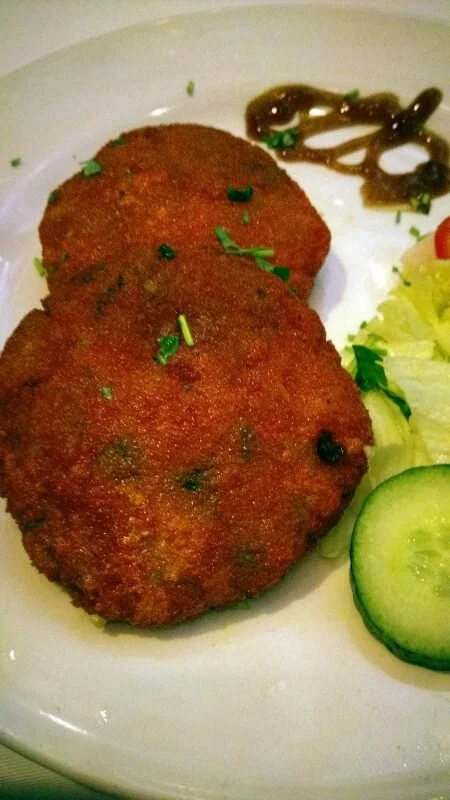 They were actually pretty odd – the inside was definitely potato, but not markedly anything else. I couldn't really taste the lentils or the spices, at least not in such a way that I could name them. It was a kind of grey-ish mush on the inside, which was all of the ingredients combined into the patty. It wasn't bad to eat – it just had a very potato-y flavour. It was fairly filling also, you could probably compare it to a hash brown with less salt and a smoother filling. It didn't crumble too easily, and remained solid on my fork after cutting it up.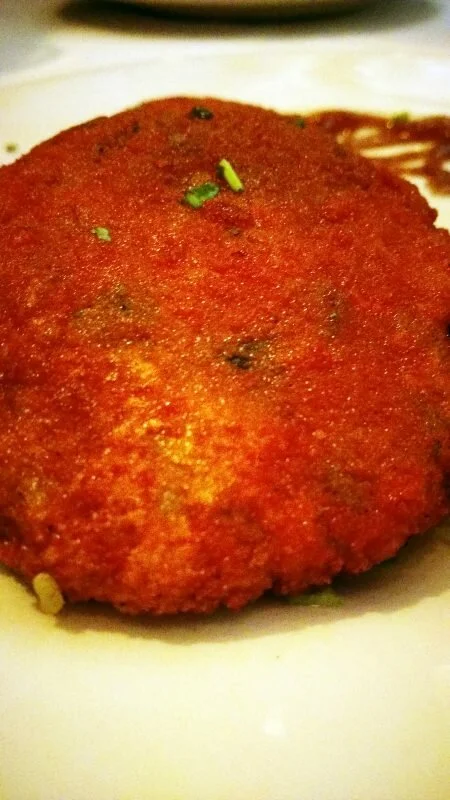 We enjoyed the whole of the meal – the service was great and the food was delicious, even if the portions were for the most part a little smaller than expected. Which is not to say they weren't enough – it just feels a bit wrong if you don't finish an Indian meal feeling like you ordered way too much! Altogether I would recommend eating here, so long as you bear in mind that it is going to be costly to order a big meal.
ON THE VEGBURGE SCALE, I GIVE THIS…
TASTE – 5/10
PRICE – 7/10
REST OF EXPERIENCE – 8/10