Recently, I spent some time in Budapest, and gathered plenty of information about where you can find the best vegetarian or vegan meals while you are there. This is by no means a comprehensive list, but is based on my own experiences – and I did a lot of research both beforehand and while we were there in order to find the best possible options throughout the week. There is a lot to cover here, so I will get started right away…
One of the restaurants that we read about on TripAdvisor and decided to check out in person was Macska. There is a lot of character in this small bar, and the full vegan/vegetarian menu which is changed every single night and written on chalk boards above the bar offers a lot to make your mouth water. On the night that we went, we decided to opt for the cheap and delicious-sounding vegetable soup with sour cream and pita bread. In fact, the sour cream was not mentioned on the menu, but was provided as an optional extra for those who are not vegan. The soup itself was filling and hearty despite looking somewhat weak when you lifted it with your spoon, and contained a variety of winter vegetables served hot. The sour cream cooled it down very nicely and presented a good contrast in flavour and texture, while the nice warm pitas were the perfect complement to the meal as a whole. Despite this very simple meal which only cost us a couple of pounds, we were completely full afterwards and even felt as though we might have difficulty walking around comfortably. The atmosphere was good, even though there seemed to be a larger percentage of locals there. One caveat was the lemonade – if you order lemonade, you get lemon juice, not the fizzy drink that we would expect. It was very strong, so beware!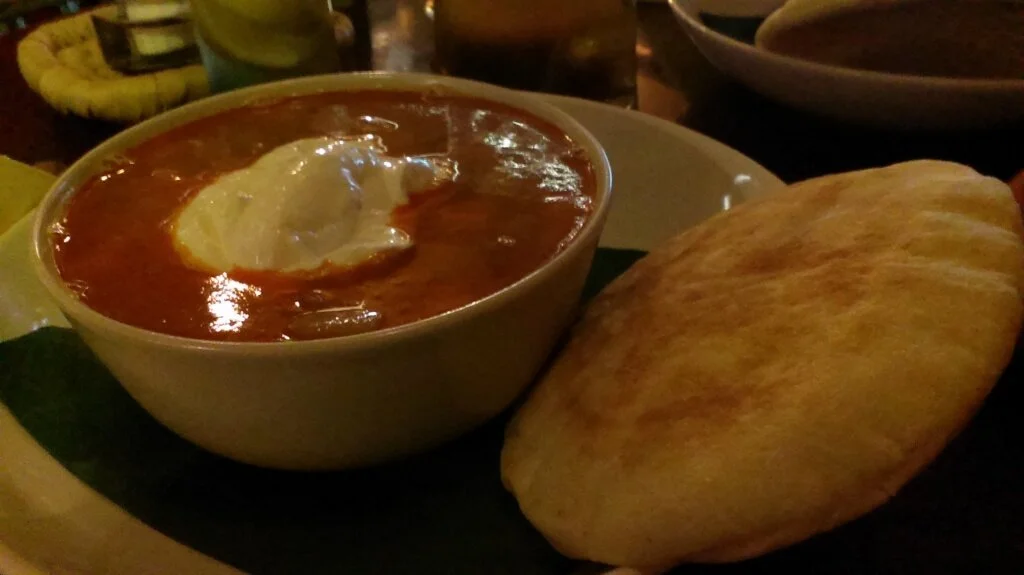 Another venue that we searched out after seeing it online was Falafel. You can read my full review of their veggie burger here, but the rest of their food is also all fully vegetarian, with some vegan options as well. They have homemade drinks and plenty of salad elements, all centred around a salad bar where you can fill pitas, plates, and other containers depending on how much you would like to pay.
At the recommendation of someone that we met in Budapest – a Canadian student at the local university – we also tried out a tapas place called Pata Negra. I don't have any images of the food there – we were cramped into a very small table and the dishes were not presented in a way that was particularly pretty, so I didn't bother taking any. The dishes did not have a particularly Spanish feel to them and I suspect that this was simply a Hungarian interpretation of the tapas menu. There were quite a few vegetarian options, however, and I did really enjoy their patatas bravas – nothing at all like the patatas bravas I've eaten in Spain, but nonetheless very tasty with a sauce that I could happily have eaten on everything.
There were two places we couldn't find, which we had wanted to try initially. Either we're stupid, or they don't exist any more, so make sure that you check this out carefully if you are currently planning a veggie trip to Budapest. These were the Basil Ica Salad and Pancake Bar, and Nemsuti bisztro. At the time of writing, I haven't seen any more reviews added for them, so it could well be that they are now gone. Although we did manage to find it, we didn't try Govinda, as it was very far away from everywhere but the Parliament buildings and we preferred to go back closer to the hotel before eating and losing our momentum.
Although it was not a full meal, we did also stop for a sandwich in the Gellert Spa after enjoying some relaxation there. They only had one vegetarian sandwich at the time, which was filled with varying cheeses and salad. There were harder, sliced cheeses, soft cheese spreads, tomatoes, cucumber, and lettuce, all of which was quite fresh. The bread was a little chewy but otherwise fine. When it comes to sandwiches, you may find yourself a little suspicious from time to time as full descriptions of the ingredients do not seem to be the norm – but so long as you can check it over fully, you should be fine. This one was passable, but nothing special at all.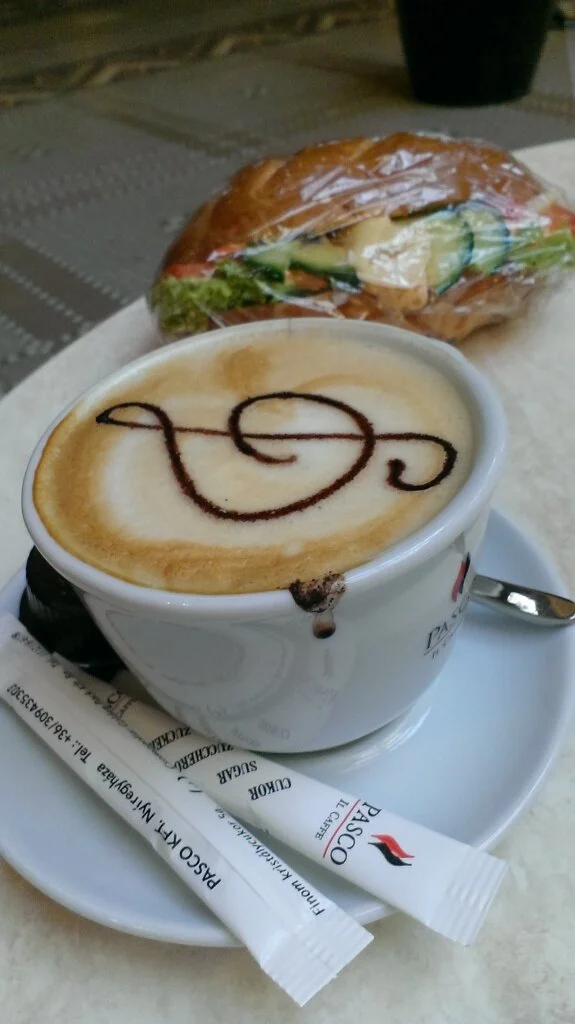 One of the places that we just had to try was the Cat Café. Just like the name suggests, the café is full of cats who stay there and will prowl around while you eat! This is a growing phenomenon in Europe and is becoming increasingly popular. Unfortunately our experience here was a bit underwhelming: the cats were not bothered about going anywhere near people who did not have treats on them, and one cat came to check out our table before deciding we nothing of worth and going to sleep. While we were there we had some sandwiches, but they were listed just as vegetarian so we had to check what was in them. This turned out to be cheese, tomato, and sweetcorn, a bit of an odd mix and one that did not entirely satisfy my tastes. The bread itself was quite odd – it was thick and reminded me of the last slice of bread in a loaf, or in other words plenty of crust and not much of the soft insides.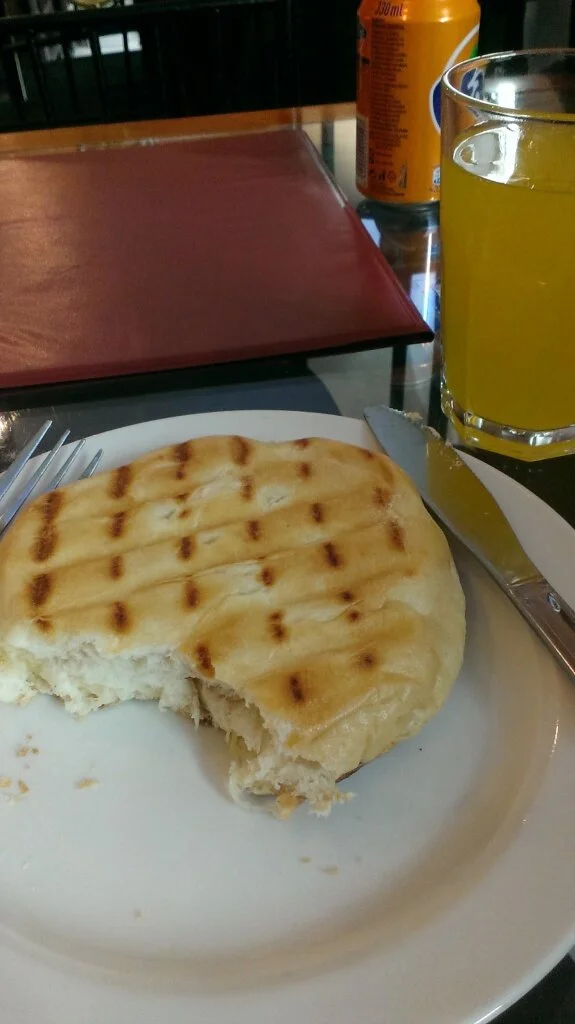 The first place that we went to also turned out to be one of our favourites, and we did return there again before coming home. This was the Hummus Bar, which more or less does what it says on the tin! It is a small café/restaurant set up and there are actually a few different venues throughout the city, though we stuck to the Kiraly Utca one. They had lots of veggie options, including the hummus complete, which was recommended to us right away because it serves as a kind of sample platter of all of the different things that they serve. It is vegetarian, although there are a few options on the menu that are not, so watch out for those. The hummus complete was made up of some delicious fried mushrooms which I really could not get enough of; some watery chickpeas which were not very impressive and hardly any taste, though my partner in crime did actually enjoy them, so it must be down to taste; a large amount of the hummus itself, which was very tasty and had a great texture; and the falafels, six of them in this case, which were crispy, clean tasting, and delicious, even if they were somewhat small. There was also some oil on the top of the hummus, and some herbs spices scattered on top. The presentation was really fantastic, with the bowl being made to look like a huge endless pile of hummus with a swirl of it all the way round the outside edge, and the use of paprika made the plate really striking.
You also had the option to add on pine nuts for 100 fts – ridiculously cheap – and after I tried this version I liked it even more. We were delighted to find that you would be offered free teas every time you visited, depending on the weather and hour – warm teas when it was cold and dark, and lighter, more refreshing teas during the day. The hummus complete was supposed to come with just two pitas, but every time, we were given extra pitas at no extra charge. What is more, they had baklava on sale if you wanted to get a dessert (but we were absolutely stuffed after eating this plate and just took the baklava to eat later on). For a very low price of less than £10, we were able to get two main courses and two drinks, as well as the free teas and some free dips that were put out for us. All in all, it could not be beaten on value.
We also stayed at the Atrium Fashion Hotel, just outside the main part of the city, which offers free breakfast included in the room fee. The hotel breakfast was amazing, with lots of pastries both sweet and savoury on offer. These included cinnamon swirls, fruit turnovers, croissants, and some more unusual options like the pizza swirl (so we dubbed it). This was a pastry just like the cinnamon swirl, but instead of being sweet, it was coated with tomato paste and herbs and covered in cheese. Even served cold, they were delicious, and we found plenty of similar pastries on sale in the ubiquitous Spar shops that Budapest has on offer.
Along with the pastries, you could also opt for cooked food, such as scrambled egg served with paprika, potato rostis, and various roast veggies. In the image below you can see the eggs, rosti, and some roasted sweet potato. The egg did contain meat one day, so that's something that needs to be kept an eye on. You could also take your pick of fruit and cold salad, and help yourself to coffees, teas, and some very sweet fruit juices. All in all it was certainly satisfying, and allowed us to walk around just about the whole of the city centre every day without needing lunch early.
We also tried a restaurant on Erzsebet called Taco Loco, which was another favourite of ours and definitely deserved a double visit. Here you could find Mexican food – a bit random in the middle of Budapest – but done very well for a low price. They had cheese and spinach quesadillas which were just fantastic, served with sour cream, salsa, and guacamole. They were huge, and very filling! You could get an alternative with cactus instead of spinach that was very interesting, and their horchata was thick and creamy. We did try their nachos the first time that we went, but it just was not worth it as they were simply plain tortilla chips served with more of the same dips. The second time we went, we opted for dessert – in my case, a banana split that went down a treat. I would absolutely eat there again if we were to go back, even despite the fact that the waiters are not very attentive and the premises need a bit of attention!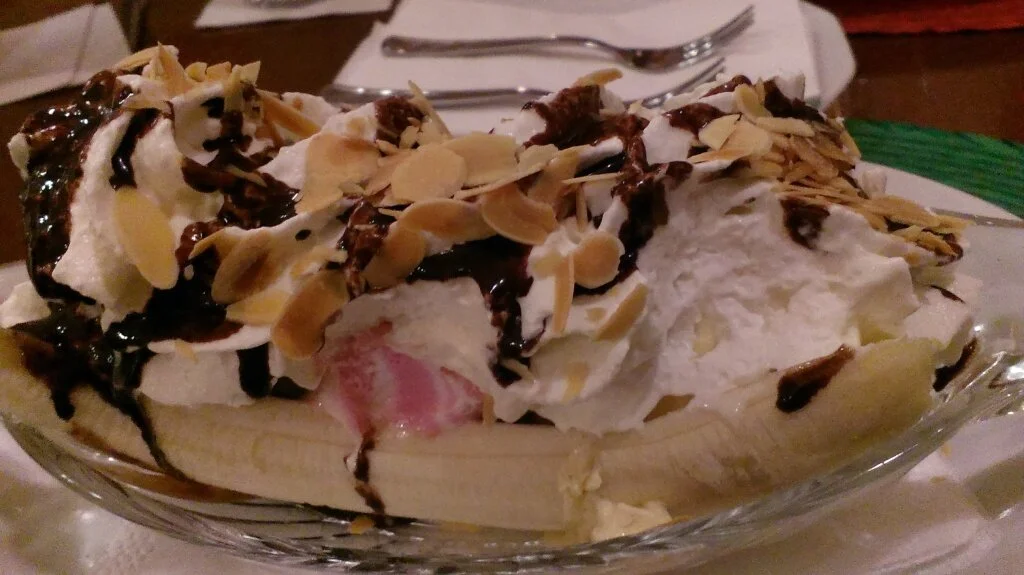 Overall, there are plenty of fantastic places to eat vegetarian in Budapest, and for vegans it is relatively easy as well. This definitely makes the city rank a lot higher in terms of how much I enjoyed my experience, and also means that I know it would be easy to go back there again. With prices so low and food that is very tasty, it is hard to go wrong here. Just steer clear of the huge tourist streets (you'll recognise them from the Chanel and Louis Vuitton stores) and you will be fine. In fact, you can eat like a king!